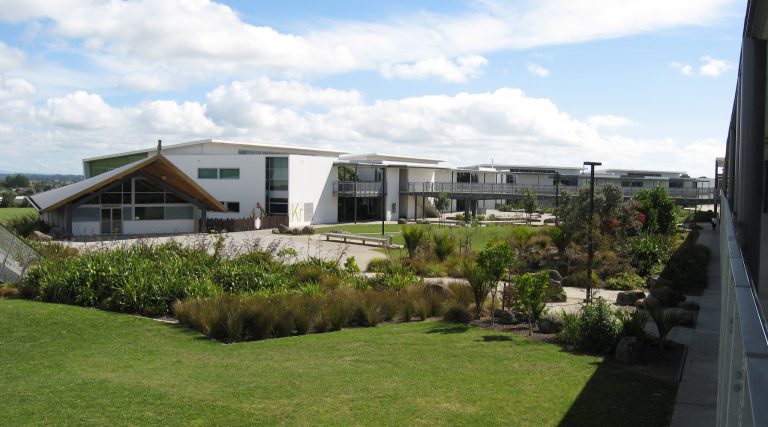 Alfriston College has been purpose-designed and built to meet the needs of today's and tomorrow's learners.
A key feature of the five Whānau buildings is their flexibility. Learning spaces have 'operable' walls (walls that move) allowing the size of learning spaces to change to accommodate the learning that is happening. 
All spaces have immediate access to WIFI to facilitate BYOD. All learning spaces are equipped with data projectors. Classrooms are bright and designed to use as much natural light as possible. Furniture is designed and used to enhance collaborative learning opportunities and to cater to different learning needs.
Theatre complete with gantry, sound booth and retractable seating
Dance and drama studios
Hospitality suites, cafe and barrista facilities
Kitchen and Māori medicinal gardens and orchard
Multi material workshops
Wharenui
Gymnasium with weights and exercise suite
Astro-turf tennis/netball courts, basketball court and beach volleyball court
Music suite including practice rooms and performance space
Sit down cafeteria
Pathways Centre
Approximately 25% of learning in a school happens outside the classroom. Learners learn about justice and equity from the values demonstrated everyday. They also learn important skills about how organisations operate and make decisions. With this in mind, Alfriston College is designed with the vision of the school as a theme park, where the theme is learning. The following examples illustrate some of the ways which Alfriston College school buildings and grounds have been used as tools for learning:
Environment quality and sustainability are explored through such features as a wetland eco-system to collect rainwater and monitor CO2 levels in learning spaces.
Distance, volume and proportion are illustrated on the walkways marked out in 10 metre sections, a three tonne cubic metre block of solid granite and lines of bricks illustrate size and mathematical patterns in the main courtyard.
To denote location and position all paving is oriented along NSEW lines.
Door signage includes GPS co-ordinates.
A roundabout at the school entrance is the site of a sundial.
Lifts are transparent to illustrate how they work and in some spaces glass 'truth windows' reveal ducting and cabling behind the walls and ceilings.
Our school computer servers are located in a glass room to make it visible.
The learner entrance to the school is through a 'virtual forest' complemented by the trees and birds which now inhabit it. It leads to Te Pai o Takanini, our wharenui, which is the heart of our school. In this way, learners are invited to begin their day in a way which is designed to welcome them and to value them.