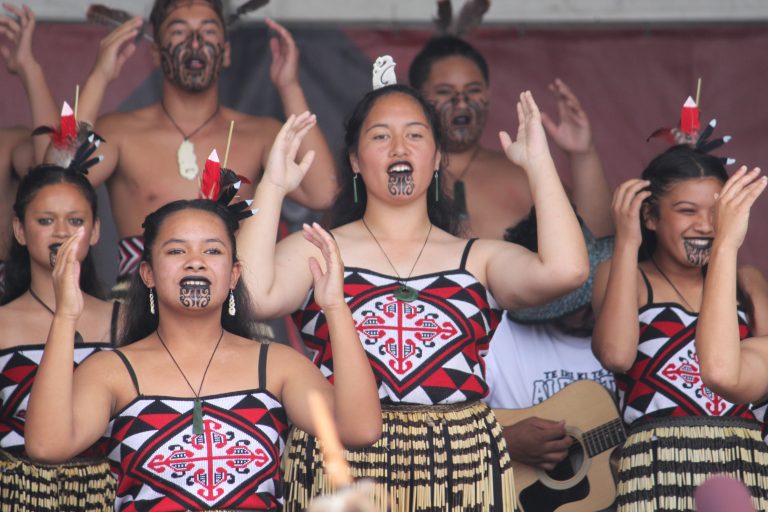 We are proud to offer many Cultural opportunities for learners at Alfriston College
All new learners and staff are welcomed into the Alfriston College learning community at the start of the school year with a whole school powhiri. Each whānau also welcomes new learners with their own welcome ceremonies. During the year Maori whānau hui and Pasifika fanau fono are held to develop and maintain connections with families. Māori and Pasifika learners' success is publically celebrated in award ceremonies held annually in September and October.
There are many opportunities for learners to be involved with culture, arts and cultural groups at Alfriston College.
Of note in Music are our many successes in Tangata Beats, the KBB Music Festival, and Stand Up Stand Out. The Music Learning Area showcases learners' talents on their Youtube channel.
Learners have also enjoyed success in local spoken word competitions. In 2018 the team made it to the finals of the Grand Slam competition.
Junior and senior learners have also been successful in Auckland-wide competition.
The Performing Arts Learning Area hold showcase evenings throughout the year and often tour our local primary and intermediate schools to showcase their talent. Artists also perform for learners during the school day.
Each year Alfriston College enters a number of groups into the ASB Polyfest including Kapa Haka, Niuean, Samoan, Tongan, Cook Island, Fijian and other diversity groups. Over 200 learners from Year 9 to 13 are involved annually. Many awards have been won by Alfriston College groups.
Co-curricular learning experiences are further authentic opportunities for learners to develop Alfriston College's life-long values and independent learner actions.