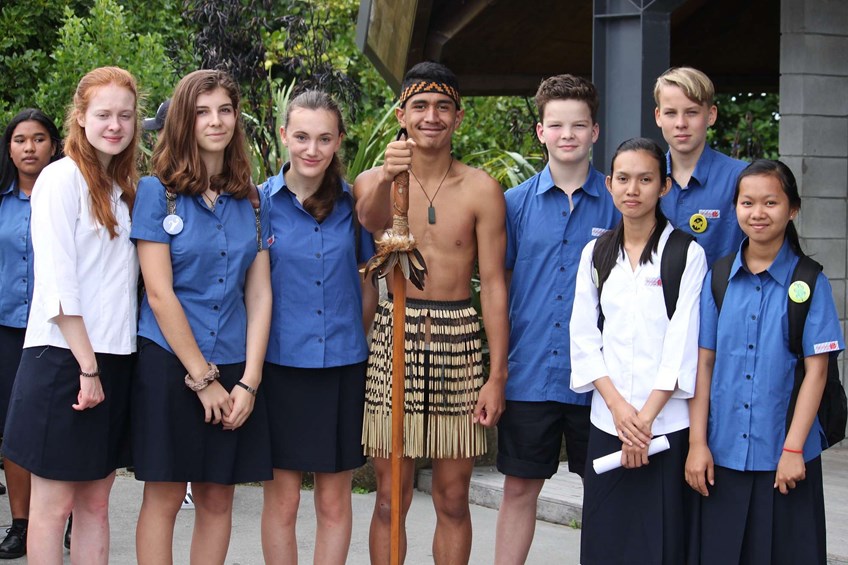 Alexandra (Year 12, from Germany)
"I'm 16 years old and I'm an international student at Alfriston College. I've been at this school for two months now and I have had an amazing time.
I just came back from one of my Outdoor Education trips. We spent three days in the New Zealand rainforest with our massive rucksacks and we had so much fun. I had a really good time and I learned a lot. Outdoor Education is one of the great subjects which you can take at this school. The other subjects I chose are Physical Education, Hospitality, Travel and Tourism, Photography, and I had to take Maths and English. There is a huge range of subjects to choose from and you get to try many new things.
When I came to the school for the first time, I was really excited and a little bit scared. However, the students and teachers were so nice to me and made me always feel welcome. I found many new friends and have enjoyed every minute here. I also got used to the school uniform quite quickly and I love wearing it. I'm going to miss it back in my home country.
The other thing I was really scared of was the host family I would be staying with. I now have known them for six months because this is not my first school in New Zealand. I live together with my host-parents, my two host-siblings Tilly(11) and Harry(10) and the cat Mr. B. My host-dad is a teacher at Alfriston College and I really enjoyed staying with them.
If I get the choice again to go to another country as an international student I would choose New Zealand again because it's such a beautiful country and I would go to Alfriston College again. I'm so glad to have been a student there. I had an awesome time and so much fun. I'm going to miss the school, the community at the school and the wonderful school life so much. I really appreciate being able to come here and I have absolutely loved it."
Henrike (Year 11, from Germany)
"What I like about Alfriston College is that you have so many options to choose for your subjects. Also within a subject like Music, for example, there are different options. That made it more interesting for me, because I already had music in Germany, but now I take Music Performing Arts and Technology which is way different from what I'm used to.
I also like the thought of being a part of a big family like the AC Whanau. I love the whanau and the whanau competitions. It's a lot of fun and it's nice to get to know people from other year levels in my tutor class. I also like that the staff of Alfriston College are always open to questions and help me when I have a problem or want to change any of my subjects.
My favourite thing at Alfriston College is probably the fact that I can take Outdoor Education and go on the trips from every year level if I want to. I love the multi day trips, which give me the chance to really get to know people and see parts of New Zealand that I haven't seen yet.
I am really enjoying my time here in New Zealand and Alfriston College is one of the reasons why it's an amazing experience for me."
Eleonora Focina (Year 12, from Italy)
"Alfriston College is a very organised school and students can find everything they need there. Students can use laptops to study and find them in each class. Teachers are so friendly and helpful, they do their best to help students understand the lesson"
"Alfriston College una scuola molto organizzata e i studenti possono trovare tutto cidi cui hanno bisogno. Gli studenti hanno a disposizione dei computer portatiliche possono trovare in tutte le classi. I professori sono molto amichevoli edisponibili, fanno del loro meglio per aiutare i studenti a capire la lezione,persino nella biblioteca ci sono professori che li aiutano a fare i lorocompiti. Mi piaciuta molto la classe di spagnolo perch mi piace il modo incui organizzata. C'erano quattro sezioni: la lettura, l'ascolto, il dialogo ela scrittura. Ma questa non l'unica materia che si pu imparare, c' moltoaltro come cucinare, danzare, suonare uno strumento ecc.
Se tipiace lo sport, c' un'enorme palestra dove puoi fare lo sport che preferisci.

L'orario scolastico molto pratico perch la scuola non comincia n troppopresto n troppo tardi.

Inoltre, Alfriston college organizza spesso gite di ogni tipo.
Mi sonodavvero divertita durante il mio soggiorno in Nuova Zelanda e sono cos felicedi aver avuto l'opportunit di conoscere Alfriston college e incontrare tuttele persone che ci lavorano e che ci studiano. Consiglierei questa scuola atutti gli studenti."
Maria Silva (Year 11, from Brazil)
"New Zealand is an amazing country, with so many incredible beaches and nice places to go.
 I always wanted to do an exchange, to meet different people from different countries and other cultures,  and also to improve my English. In Alfriston College I found all of these things, I met people from Germany, Japan, China, India, France and of course kiwi people! Friends that I'll remember forever.
 I was really surprised in my first days here – all of the students were so good with me.  They were always open to talk to and helped me with anything I needed.  This was really good of them. We had a sports day where I made heaps of friends as soon as they knew I was an exchange student from Brazil. It was a really fun day which made me feel a part of Alfriston College.
 Our International Leader is always there to help us with anything we need. She took me, my three Brazilian friends and three other international students from Germany to Gibbs Farm which is a farm with several sculptures in different ways. It's a very interesting place. And it was there, where I made friends with one of the other students. It is a friendship that I'll keep forever in my heart. Our International Student Leader and her husband also took me and my Brazilian friends to Coromandel – a beautiful place with an amazing beaches where we had to opportunity to learn how to kayak. I also got up early and saw a beautiful sunrise.
 I came New Zealand with more three Brazilian students and I wasn't actually good in English, so I was quite scared to come to this new country not knowing anyone.  Everyone in Alfriston helped us with this, and also I had a good host family who helped me as well.
  I could choose which classes I wanted to take, and I really liked that. All of the teachers helped me.  Now that I'm leaving soon, I know how much I'm going to miss every single person who helped me, and who was a part of this amazing time I have had here, I'll take this forever in my life.
 I couldn't be more thankful to Alfriston College, for making my exchange a wonderful part of my life. So a big THANK YOU for everything!!"