The Growth & Development Coaching Model
A growth focused approach to appraisal and performance management
Our Vision
Improvement of teaching and learning through a growth and development focus centered on reflective practice and evidence based decision-making.
AC PLD Philosophy
Alfriston College will be a professional learning community that embeds a culture of collaboration and shared ownership, which supports lifelong learning and expects success through a culturally responsive and relational pedagogy.
We do this in and through reflective practice, by knowing our learners and knowing our impact. MEANINGFUL evidence informing practice.
Why
As a learning community, it is critical that we encourage and role model the role that lifelong learning plays in our day-to-day practice. As the needs of our learners continue to change, the world around us is also changing. To meet the demands of the changing nature of learning and the shape of education, it is our professional obligation to continue to upskill and engage in learning that will help to enhance our practice. Identifying professional goals and key areas of development is key to this process. It is only when this becomes part of our culture – the way we do things around here – that we can be assured that we are truly able to disrupt the status quo and make a real difference in the lives of all our learners here at Alfriston College.
How
In order to better meet the needs of our professional learning community, we need to understand the capacity and capability of all Learning Leaders and leadership school wide. We must be able to identify as individuals strengths and areas for development in our own practice. This will allow for rich professional learning experiences and a greater range of needs to be met through personal development plans and strategic resourcing.
"If we know how well we are performing our job and how well students are learning, then we might be in a position to pinpoint the areas of our performance that could be improved." (Cardno, 2012)
ERO Effective school evaluation (2015) states, "When internal evaluation is done well, processes are coherent and align with school's visions and strategic goals."
Evaluation leadership
A learning oriented community of professionals that demonstrate agency in using evaluation for improvement in practice and outcomes.
Systems, processes and resources that support purposeful data gathering, knowledge building and decision making".
What: Our Approach
Our unique approach to Appraisal and Performance Management is through our Growth and Development model of reflective practice and meaningful evidence curation.
This approach encourages Learning Leaders to interrogate their practice in the classroom as well as with colleagues and the various layers of leadership across the school. The focus of learning stories is reflective dialogue that builds knowledge and makes sense of the impact our practice has on learners and learning and ensures that evidence based decision-making informs learning and leadership design. A range of perspectives are critical to ensuring that evidence curated over a period of time presents a balanced portfolio that incorporates a range of voice from key stakeholders. The evidence that forms part of our curated portfolios must also come from a range of sources – ensuring that meaningful evidence from across practice forms part of the story.
Carol Cardno (2012) identifies key elements of performance appraisal to involve:
Development and negotiation of a working, dynamic action plan (School Improvement Plan) in partnership between a 'coach' and the LL.
Clarification of how the professional standards are linked to expectations.
Supervision of performance through regular monitoring, classroom observation, data gathering and meetings in which there is dialogue about performance and its improvements.
Formal occasions to review performance on the basis of data based judgements made by self and others.
Coaching, mentoring and support for professional development.
Planning for development and changes
What we know works at Alfriston College:
· Common language
· Focus on Growth & Development
· Courageous conversations
· Seeing a challenge as an opportunity
· Growth mindset
· Timely and open conversations
· Using evidence to drive conversation
· Looking beyond the surface of evidence
· Making sense of the narrative and thinking that sits behind/alongside evidence
· Asking questions,reframing if necessary and asking again
· Regular tracking and monitoring through evidence based conversations
· Shared narrative school wide
"The whole point of internal evaluation is to assess what is and is not working, and for who, and then to determine what changes are needed, particularly to advance equity and excellence goals."
Internal evaluation involves:
– Asking good questions,
– Gathering fit-for-purpose data and information, and then
– Making sense of that information
Effective internal evaluation is always driven by the motivation to improve, to do better for the students".
(ERO, Effective school evaluation 2016)
PEOPLE
The Role Of The Coachee:
The Coachee is the central lever of change in the Growth and Development model. The Coachee will engage in ongoing and critical reflective practice. Scrutinizing current practice and its outcomes for all learners.
As we move further into collaborative spaces and learning environments self-awareness and reflective practice is critical to being a positive and effective contributor and ensure an effective functioning team – enabling learner needs to be met and success achieved by all.
"Critically reflective teaching happens when we identify and scrutinize assumptions that undergird how we work. The most effective way to become aware of these assumptions is to view our practice from different perspectives. Seeing how we think and work through different lenses is the core process of reflective practice." Brookfield (1995)
The forum of which the Coachee must center reflective practice and evidence based decision making around is through the development of an individual School Improvement Plan (SIP). This must include a number of deliberate acts that will contribute to the Schoolwide Annual Goals. Plans are to be comprehensive and aligned to the individual's own classes/Whānau.
The improvement plan should detail the deliberate acts (personal actions that will contribute to improved learner outcomes). Evidence of effectiveness of deliberate acts that will allow for informed decision-making must come from the strategic actions detailed in the 2018 School Improvement Plan. Ongoing monitoring of these acts and their impact will be through a curated learning story that demonstrates critical reflection and inquiry into areas of practice that need improving to enhance teaching and learning.
"Deliberate, systematic processes and reasoning with improved outcomes for all learners."
Those involved collaborate to:
– Investigate and scrutinize practice
– Analyse data and use it to identify priorities for improvement
– Monitor implementation of improvement actions and evaluate their impact
– Generate timely information about progress towards goals and the impact of actions taken.
(ERO, Effective school evaluation 2016)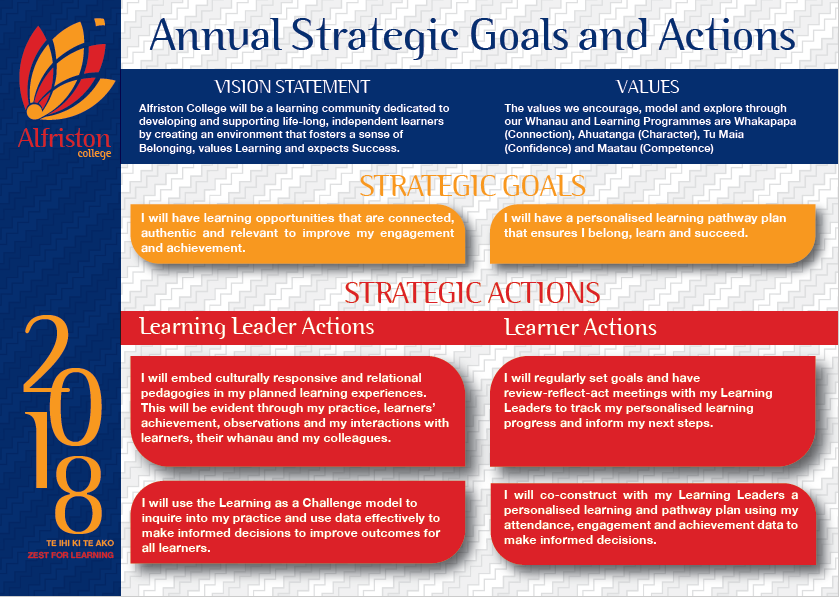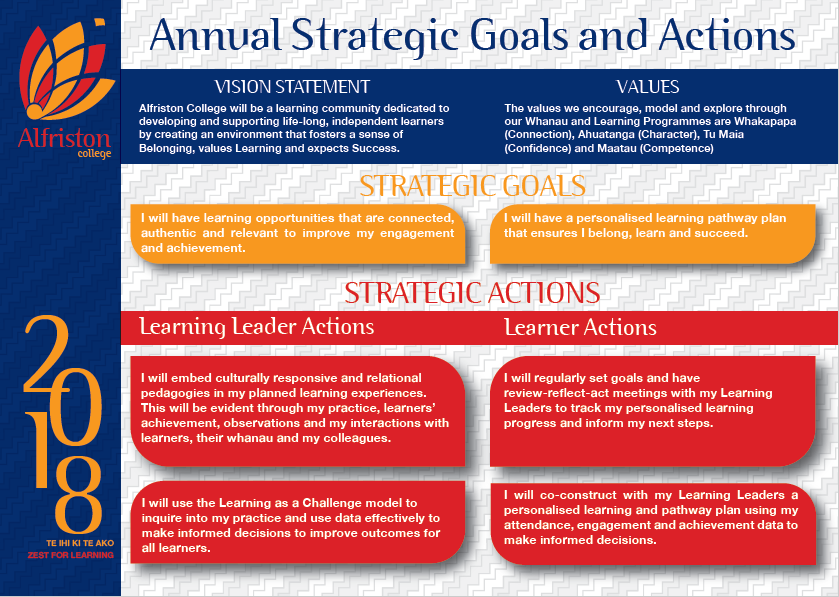 The Role Of The Coach:
"The core work of educational leaders must lie in influencing teaching and learning, and doing so in ways that positively affect the educational achievement of students." (Cardno, p17)
Role and responsibilities:
Continue to develop a culture of learning that supports professional growth.
Uphold and ensure robust interrogation of evidence with an improvement focus (so what, what next).
Ask challenging and complex questions to make sense and build knowledge of impact on practices and impact on outcomes.
Have high expectations and ensure quality meaningful evidence centres all discussions on Learning Leader growth and development.
Make sense of learning needs and co-construct learning and development goals and next steps as part of personal and School Improvement Plan. Initiate and support change through professional learning.
Engage in critical feedback/feedforward to ensure growth focussed learning conversations and development in practice.
Complete timely summary documentation of the learning conversation – linking evidence presented to the Practicing Teacher Criteria, Learning Leader next steps and areas needing to be addressed immediately (where applicable).
"A one-to-one conversation that focuses on the enhancement of learning and development through increasing self-awareness and a sense of personal responsibility, where the coach facilitates the self-directed learning of the coachee through questioning, active listening, and appropriate challenge in a supportive and encouraging environment." (Van Nieuwerburgh, 2012)
Coach Development Sessions to date:
Building a culture of greatness SIP: WHY
Building a culture of greatness SIP: HOW
Building a culture of greatness SIP: WHAT
SYSTEM
Our process is founded on the fundamental principle that a system that requires an individual to just meet an expectation and 'tick a box' will not lead to school wide improvement. Our philosophy is one that requires reflective practice and critical and complex conversations to challenge our practice to:
– enhance learner outcomes
– disrupt the status quo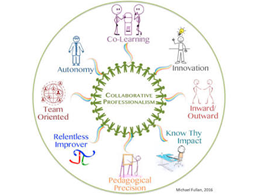 – ensure a continual focus of growth and development
"Conversation is the fundamental unit of change. If you change the conversation, then there's every chance you'll change everything that surrounds it." Jackson & Waldman (2011)
Process
Every Learning Leader in the school will develop an individual School Improvement Plan. This plan will be reviewed on a regular basis alongside their Coach.
The focus of learning conversations is to always be looking for what we could do better as individuals and to do this we need to engage in ongoing reflective practice utilising others' perspectives to help build a balanced picture as to what is going on for our learners and the impact/lack of impact we may be having in the various areas of our practice.
This process applies for all including the School Leader who will also have a BOT Sub committee (Coach/appraisal) dedicated to undertaking review and evaluation of the School Leader's Individual School Improvement Plan, the Schoolwide Strategic Improvement Plan and how this is being carried out in the various layers of school leadership.
Attestation
The process for Attestation will be embedded as part of the Growth and Development programme. Checkpoint summaries submitted by the Coach to the PLD Leader will form the evidence that will allow the School Leader to endorse that Learning Leaders have been attested against the Professional Standards for Secondary Teachers. These standards have been aligned with the Standards for the teaching profession (formerly Practicing Teacher Criteria) within the checkpoint documentation.
Renewal Of Full Practicing Certificates
The process for renewal of full practicing certificates will be embedded as as part of the Growth and Development programme. The checkpoint summaries which backmap the evidence and reflective stories that have been curated in relation to your Individual school improvement plan will form part of official documentation towards your renewal of registration. This provides evidence of meaningful assessment against the Standards for the teaching profession (formerly Practicing Teacher Criteria).
Over the course of a 3 year period, you will have demonstrated ongoing meaningful reflective practice that is supported by a range of perspectives, sources and curation over time. This will allow the School Leader to make an endorsement for renewal of practicing certificates without an additional meeting as per our transition programme.
Application To Be Issued With A Full Practicing Certificate
Key Documentation
The timeline for carrying out the learning conversations and the key focus of each of the checkpoint sessions. Key documentation supports Coach and Coachee with building knowledge and making sense.
2018 ALFRISTON COLLEGE STRATEGIC PLAN
STRATEGIC PLAN IN ACTION
2018 STRATEGIC LEADERSHIP IMPROVEMENT PLANS
2018 SCHOOL LEADER IMPROVEMENT PLAN
2018 SENIOR LEADER IMPROVEMENT PLAN
2018 WHANAU LEADER IMPROVEMENT PLAN
2018 NZC LEADER IMPROVEMENT PLAN
2018 TEAM LEADER IMPROVEMENT PLAN
2018 INDIVIDUAL SCHOOL IMPROVEMENT PLAN TEMPLATE
All learning leaders must have an individual improvement plan. This is to be a living document that is updated and demonstrates progressions as shifts and impact in practice are taking place. Links to your learning stories must be embedded and allow for viewing by your coach at anytime.
LEARNING AS A CHALLENGE (LAC) INTEGRATED MODEL
Approach to curating Learning stories – utilising the ERO effective school evaluation indicators and Helen Timperley's Spiral of Inquiry to deepen inquiry into practice and ensures that learners are at the centre of all decision making.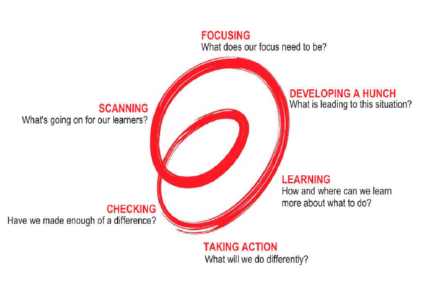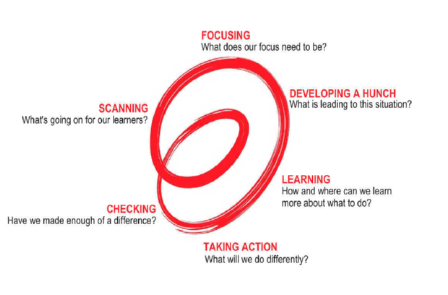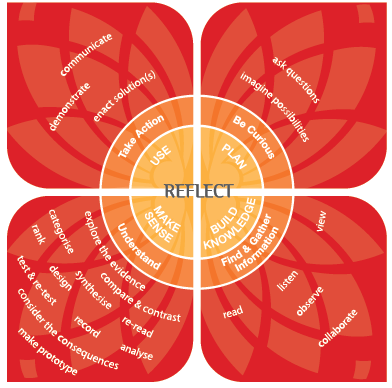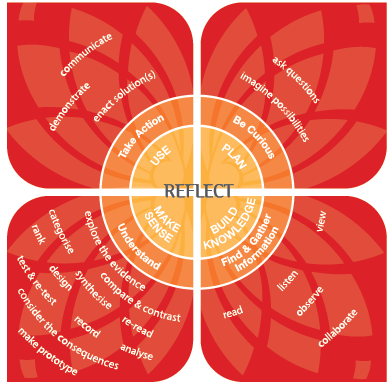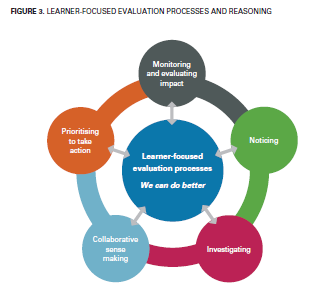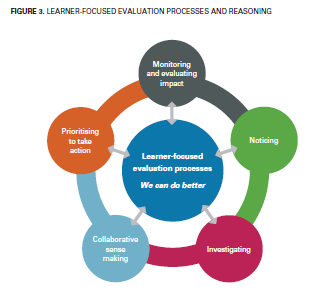 "Effective evaluation requires us to think deeply about the data and information we gather and what it means in terms of priorities for action. By asking the right questions of ourselves, we will keep the focus on our learners, particularly those for who, current practice is not working. The twin imperatives of excellence and equitable outcomes should always be front and centre whatever it is were evaluating."
(ERO Effective school evaluation)
TOOLS
Culturally Responsive & Relational Pedagogy Practice Analysis Tool
Part 2 – Reflecting on my own practice
Part 3 – Shadow coaching learning conversation
Personalised Learning Pathway Plans
SENIOR – INITIAL SENIOR – CHECKPOINT 1 SENIOR – CHECKPOINT 2
JUNIOR – INITIAL JUNIOR – CHECKPOINT 1 JUNIOR – CHECKPOINT 2
Data Analysis
Unit review
Course review
To be completed by the Coach and submitted to the Senior Leader (PLD) promptly after the meeting.
These will form part of official documentation towards your renewal of registration as evidence of meaningful assessment against the Standards for the teaching profession and attestation against the Professional standards.
Over the course of a 3 year period, you will have demonstrated ongoing meaningful reflective practice that is supported by a range of perspectives, sources and curation over time. This will allow the School Leader to make an endorsement for renewal of practicing certificates without an additional meeting as per our transition programme.
Supporting documentation:
Education Council: Our Codes, our standards
Education Council: Code of Professional responsibility – examples in practice
Professional standards for Secondary teachers – Criteria for quality teach (STCA 2015-2018)
What Our Colleagues Say About Their Experiences In The Transition Programme
"It made me think of what quality evidence was and how I was actually using it to modify and enhance my teaching practice for the best outcomes of my learners. Instead of just collecting paperwork to file, I found that I actually had solid ongoing stuff that I could add to just by making the connection to past, present and what I could do next."
"It made me reflect on my journey as a practitioner at AC in terms of my personal growth and development as both a Learning Leader and a leader. It highlighted this growth/development as well as specific areas that I could continue to target and develop that I was able to identify when collating evidence into learning stories."
"I'm continuously being challenged by myself and others in these areas and the review process was another way to do this."
"What I got out of it was that learning story process – that things keep evolving and shifting. That it is also okay to be wrong and that it is what I do next that is important. To always be talking to my learners and my colleagues to keep the discussion open about what I could be doing to make myself a better teacher. "
"the emphasis on Learning Stories and the GDC programme, will standardise and normalise the spiral of inquiry as what we do all the time and there won't be that looming deadline."
Our Commitment To The Teaching Profession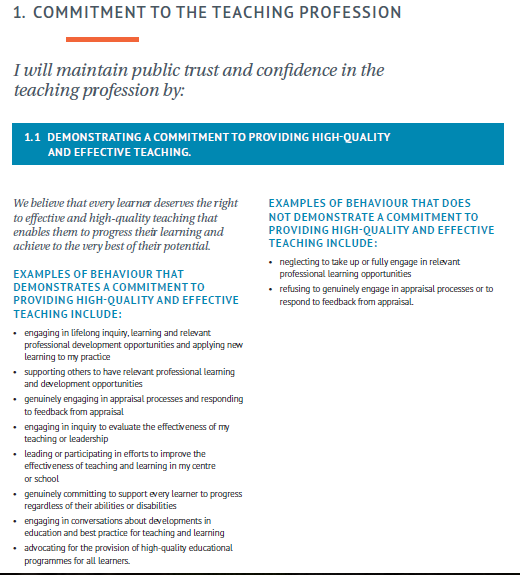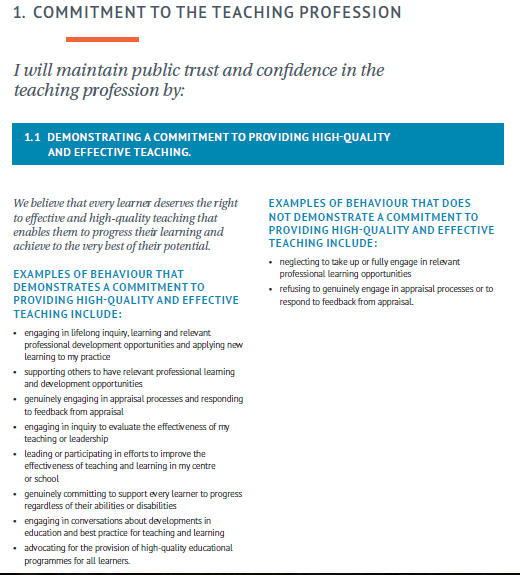 Desired Outcomes: School Wide Shift In Practice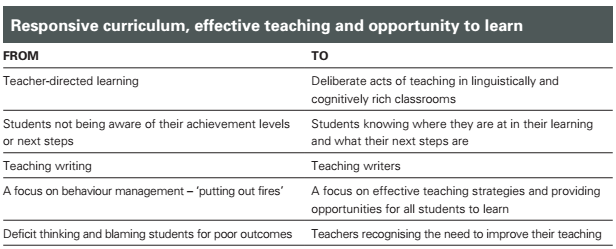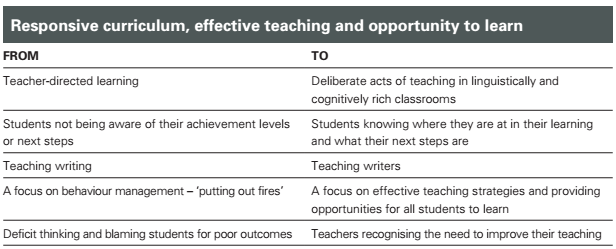 References:
van Nieuwerburgh, C. (2012). Coaching in education: an overview. In C. van Nieuwerburgh (Ed.) Coaching in Education: Getting Better Results for Students, Educators, and Parents. London: Karnac.